This year I have been putting a lot of thought into Christmas presents for the family and I also have a bit of a glut of delicious wild mushrooms in my stores, so I thought I'd share a pickled mushroom antipasti recipe with you which is delicious as a cold salad and can be made with many types of fresh and dried wild mushrooms.
To prepare the pickle from previously dried mushrooms you must first marinade them correctly for 24 hours to soften them. Ideally, if you can, use mushrooms that you have dried at a low temperature (less than about 45 deg) as when they re-constitute they will be a lot more similar to the fresh mushrooms that you started off with.
Marinade for dried mushrooms
To marinade dried mushrooms for use in pickle or elsewhere this is the procedure that I follow. I put the mushrooms in a pint glass until it is three-quarters full, then add a 50/50 mixture of just boiled water and cold tap water so that the mushrooms are just covered. Next I add:
Half a teaspoon of salt
Half a teaspoon of dried thyme
2 cloves of beaten/crushed garlic
A generous dash of balsamic or elderberry vinegar
2 tablespoons of extra virgin olive oil
A generous grind of black pepper
Stir the mixture thoroughly, cover it with a saucer and leave it to stand for 24 hours for some marinading magic!
Preparing the wild mushroom antipasti
If you are using fresh mushrooms then make sure that you cut away and remove any blemishes or brown areas that might be caused by food spoilage organisms. If you are using dried mushrooms you will of course have done this prior to the drying process.
Equipment
Stainless steel or non-reactive saucepan
Sterilised jars with lids
A sterilised food sieve
A sterilised ladle
A sterilised tablespoon
A boil washed tea-towel or similar that has been through a thorough rinse-cycle to remove any traces of detergent
Ingredients
1.5 litres of chopped fresh mushrooms or marinated dried mushrooms
1 litre of white wine vinegar or apple cider vinegar (a little less refined perhaps but I enjoy its full flavour and bite)
600 ml of water
2 tablespoons of salt
4 bay leaves
A sprig of rosemary
A tablespoon of thyme
10 cloves
10 peppercorns
A generous amount of olive oil (not extra-virgin, and avoid 'pomace' oils which are often contaminated with hydrocarbon solvents)
Method
Add all of the ingredients except for the olive oil to the saucepan and bring them to a rolling boil. Add the mushrooms and bring the liquid back to the boil. Allow to boil for 5 minutes for small mushrooms and up to 10 minutes if you are using larger pieces or whole button mushrooms. Note – some mushrooms, for example the more acrid milk caps eaten in eastern Europe and the Baltic countries, require longer boiling times. The method given here is for mushrooms that can normally be safely eaten using typical western European preparation methods such as frying.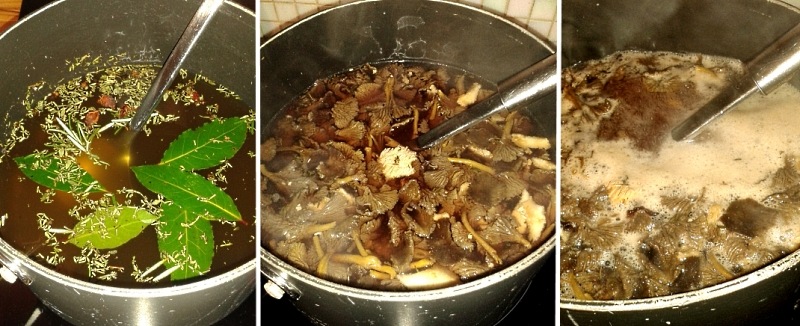 Remove the mixture from the heat, pour it through the sterilised sieve into the sterilised bowl, cover and allow to cool. Boiling the mushrooms in the vinegar-brine mixture has sterilised them so DO NOT handle them from now on with fingers or un-sterilised utensils.
Once cooled transfer the mushrooms onto the clean tea-towel and folding it in use it to carefully press out any excess moisture. Do not attempt to wring the mushrooms as they are supposed to contain a little vinegar brine and their appearance will be spoiled if you squash them.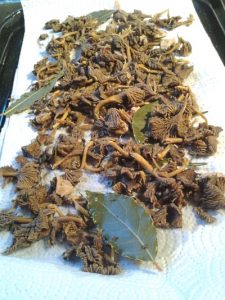 Bottle the pickling vinegar-brine mixture for later use. You can re-use it a number of times as its low pH (very acidic) means that it will not go off.
You can now transfer the mushrooms to the sterilised jars. The best way is to add a layer at a time followed by a very slowly poured layer of olive oil, stirring gently between layers. This will remove the majority of air bubbles which could lead to storage problems. Once you have filled the jars in this way and the mushrooms are completely covered by a centimetre or more of oil, then fasten the lids tightly. Remember to include some of the spices that you cooked them with!
Keep pickled mushrooms in a cool dark place for at least one month before opening, preferably two. Once opened refrigerate them and use them up within a couple of weeks to avoid the risk of spoilage. Always use a clean spoon to ladle them out.
That's it, enjoy! I hope you like my pictures of the pickled trumpet chanterelles that I made as Christmas presents for my family yesterday 🙂
At The Wild Side of Life we don't sell pickled mushrooms, but if you'd like an original present why not purchase one of our courses where the lucky recipient will learn all about how to identify, forage and prepare wild mushrooms correctly such as these? We have a 4 day course and several 1 day courses programmed for Autumn 2016!