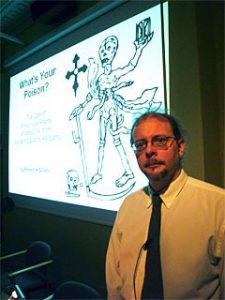 Fred Gillam has presented a range of lectures, informal talks and slideshows to a variety of audiences including The Bath Royal Literary and Scientific Institution, community interest groups and garden societies. The range of subjects covered has included botanical history, poisonous plants, woodland ecology and management, botanical medicine, edible and medicinal mushrooms and botanical folklore.
if you would like Fred to give one of these talks or create a special one just for you please email: Fred@thewildsideoflife.co.uk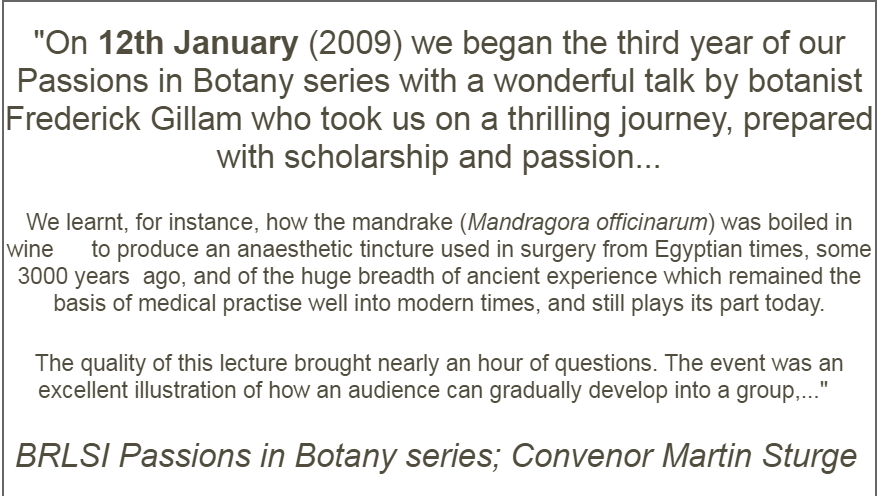 The following talks can be presented to your group on request, but if you cannot see what you are looking for then please get in touch and I will see if I can create something especially for you.
– Fred Gillam
Tree Folklore, Medicine and Magic.
A look at the mysterious ancient practices, traditions and lore that surround our native trees.  You will learn about the practices of the Anglo- Saxons and Druids who once practiced magical and religious rites that were intimately bound to their relationship with the trees of this land, and there will be tales from drawn from traditional witchcraft, faery lore and folklore too.
A Potted History of Therapeutic Horticulture.
An illustrated journey from the Hanging Gardens of Babylon, through the inmates of Bethlehem Hospital and the mediaeval world view, via the depictions of Hogarth and Van Gogh to the present day horticultural therapy movement.
What's Your Poison? – The Use of Poisonous Plants in Medicine from Ancient Egypt to Allopathy.
An illustrated discourse on the medicinal use of poisonous plants, starting with the medical papyri of ancient Egypt, and material contained in Indian vedic texts, covering the documented use of plants such as belladonna, henbane, hemlock and mandrake from classical to mediaeval times, and going on to discuss the use of poisonous plants in Victorian medicine, and in allopathic medicine today.
Magical Mushrooms – The Good, the Tasty, the Bad and the Ugly.
A talk and slide show with anecdotes from collecting fungi over the past 3 decades, recounting some of the funniest and most peculiar experiences that I have had.  If this talk is conducted in the autumn I will bring in fresh samples of some of the more interesting species for handling.
Traditional Coppice Woodland Restoration and Management.
This talk provides an overview of the restoration of old coppice woodlands and how to go about it, and describes the traditional methods that were once used, contrasting them with modern forestry techniques and the volunteering approach used by wildlife trusts and conservation organisations.
Creating A New Woodland For Your Community.
This talk provides an overview of the environmental, ecological, silvicultural and practical implications of establishing a woodland for your community – and is suitable for community groups who wish to do just that.
Establishing Willow Beds For Use In Community Projects, Basket Weaving and Garden Design.
This talk with slides from the establishment phase of the willow labyrinth at Bradford on Avon will bring you up to speed on the process of establishing willow beds for growing on short rotation, using organic methods.
Plants of the Crossroads – A Look at Macabre Plant Folklore Through The Ages.
A talk with an 'old curiosity shop' feel – Plants of the Crossroads investigates the macabre side of the lore of poisonous plants, drawing from tales of witchcraft and magic, and illustrated with material from mediaeval texts…a talk with a gothic edge.
Stinging Nettle, Dandelion and Elder Tree – Three Of Our Most Despised Plants and Why We Should Learn To Love Them Fast!
Why do we hate these plants when we should love them!  This trio are often regarded as garden nasties but they are some of the most useful plants known to humanity and have supported our development in so many ways – in terms of food, medicine, and the raw materials for making essential day to day items.  Find out more about these plants and what to do with them so you too can share the love.
To book Fred Gillam as a speaker for your group, conference or event please contact Fred@thewildsideoflife.co.uk