Voted Food & Drink Awards Best Foraging Education Provider – England South.
As featured in BBC Countryfile Magazine UK Top 10 Foraging Courses
& The Sunday Telegraph Top 5!
These are exciting Saturdays in stunning locations for the gourmet, photographer or naturalist alike… discover the astonishing variety of tasty and healthy wild foods, how to identify them and harvest them sustainably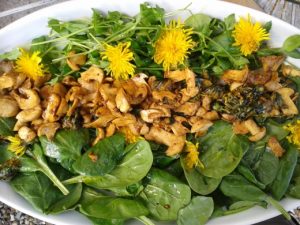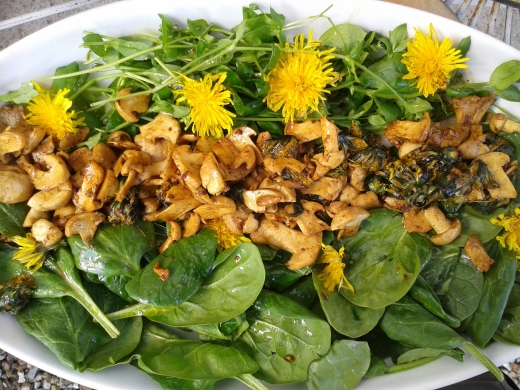 April 17th 2021, Wiltshire – AVAILABLE
April 24th 2021, Wiltshire – AVAILABLE
May 8th 2021, Wiltshire – AVAILABLE
May 22nd 2021, Wiltshire – AVAILABLE
Gift certificates also available for 2021 & 2022
All days run from 11.00 AM to approximately 4.30 PM
Cost: £80
To book email fred@thewildsideoflife.co.uk
Magnificent St. George's Mushrooms traditionally fruit around the feast of St. George (23rd April) and they continue to appear for a month or so afterwards, sometimes up to mid-June.
With a solid consistency and a robust flavour they are valued as a gourmet mushroom in many European markets and in France they are sold under the name of 'mousseron', a name that they share with the fairy ring champignon or 'petit mousseron', also much sought after. A perfect companion for delicious spring shoots and leaves such as hogweed shoots, wild garlic and Jack-by-the-hedge.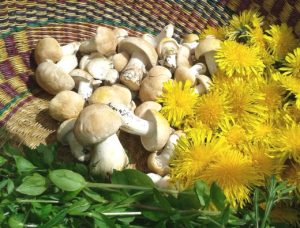 On this fun day out you will learn to recognise the plants and mushrooms that we find from their key identification features and you will also be taught to recognise the habitats where you can expect to find them in the future. We will be cooking a delicious meal with our freshly foraged wild ingredients and we will dine together in the open air with a glass or two of organic champagne. Fantastic!
These days are VERY popular and early booking is recommended.
Bookings can be made by sending an email to Fred@thewildsideoflife.co.uk (please put SPRING SHOOTS & MUSHROOMS in the subject line). Your place will be secure once we have received full payment by bank transfer (preferred), cheque or PayPal. If you have received a gift certificate for this course then your course has already been paid for and you must get in touch to reserve your chosen date.