Next 2 Day Intensive Practical Workshop:
Avebury UK – 12th & 13th June 2021
TAKING BOOKINGS
15 hour CPD certificates are available.
These are accepted by NIMH, IRH, AMH, ARCH and others.
The course is open to interested individuals as well as to health-care professionals.
---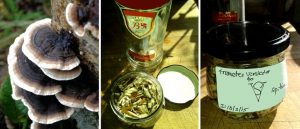 Turkey tail mushroom, Trametes versicolor – extracts are licensed for the treatment of certain types of cancer in North America and Japan when used alongside conventional therapies. Trametes is non-toxic and promotes immune system health and cell recovery from the oxidative stress caused by treatments.
Creating remedies from wild and cultivated medicinal mushrooms.
During this 2 day course you learn to identify and use wild medicinal fungi from the woodlands and hedgerows together with organically / biodynamically cultivated rarer species such as lion's mane and reishi, to assist the body to cope with conditions such as joint inflammation, herpes virus, poor immunity, colds and flu, elevated cholesterol levels and many other conditions. As well as studying the mushrooms themselves you will study their interaction with the immune system and the gut microbiome.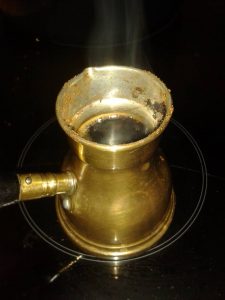 A nice cup of chaga mushroom coffee, Inonotus obliquus, brewing on the stove! Rich in anti-oxidants, betulinic acid from the birch tree and mushroom polysaccharides, chaga has been used to assist the body to fight infections, certain types of cancer, psoriasis and herpes, promoting good general health and vitality.
Over recent years medical research has attributed a wide range of beneficial actions to medicinal mushrooms and certain mushrooms have been shown to provide measurable beneficial effects in managing blood sugar levels, cholesterol metabolism, appetite and immunity as well as providing a superb range of nutritional benefits. Medicinal mushrooms are being used in the treatment, management and prevention of diseases around the world and even to help the body to fight serious illnesses such as tuberculosis and certain cancers.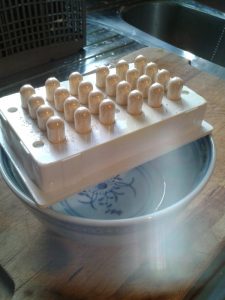 Biodynamic Lion's Mane capsules being created… this mushroom stimulates nerve growth factor production in the body so can be a useful food supplement where nerve damage is present.
Time will be taken to talk about the medical implications of using medicinal mushrooms as food supplements, the contra-indications, limits and when not to rely on self-treatment but to seek professional medical advice.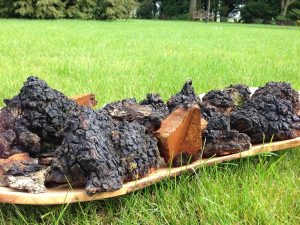 Fresh sustainably harvested chaga, Inonotus obliquus; ready for drying.
You will take home a selection of hand-made mushroom based remedies. Most importantly you will be taking away first-hand knowledge of how to re-create them for yourself for future use.
Course Details for 12th & 13th June 2021:
Location and cost:
Avebury, Wiltshire, UK
£200.00 per person, contact us for more details.
Payment options available; installments on request
Tutors:
Fred Gillam and Natascha Kenyon, organisers of the UK Medicinal Mushrooms Conference
Timing and dates: 9.30 AM to 6.30 PM day 1. Finish around 4.30 PM day 2
Includes: Remedies / study materials to take home. CPD certificates can be provided for all health practitioners and these are already accepted by the majority of herbalist professional bodies, including NIMH, IRH, AMH and ARCH.
Local B&B and camping details can be provided on request.
This practically focused course is open to all with an interest, regardless of practitioner status!
To book your place on this activity packed medicinal mushrooms course, please email:
Fred Gillam – Fred@thewildsideoflife.co.uk