Voted Food & Drink Awards Best Foraging Education Provider – England South.
As featured in BBC Countryfile Magazine UK Top 10 Foraging Courses
& The Sunday Telegraph Top 5!
Exciting Saturdays in stunning locations for the gourmet, photographer or naturalist alike… discover the world of wild mushrooms, how to identify them and harvest them sustainably!
"I never knew the world of fungi was so astonishingly diverse!"
Jo, course member, 2019
September 18th 2021, New Forest – AVAILABLE
September 25th 2021, New Forest – AVAILABLE
October 2nd 2021, Chilterns / Henley – AVAILABLE
October 13th 2021, Newbury area – AVAILABLE
October 16th 2021, New Forest – AVAILABLE
October 23rd 2021, New Forest – AVAILABLE
October 30th 2021, Chilterns / Henley – AVAILABLE
November 3rd 2021, Newbury area – AVAILABLE
November 6th 2021, New Forest – AVAILABLE
December 11th 2021, Winter Mushrooms Discovery Day – AVAILABLE
Gift certificates also available for 2021 & 2022
All days run from 11.00 AM to approximately 4.30 PM
Cost: £90
To book email fred@thewildsideoflife.co.uk
A journey of discovery through ancient woodlands and meadows awaits, to learn about the magic of the mycelium and gather important facts about what to do and what not to do when gathering your first mushrooms. You will get the chance to pick and sample a few choice species under expert supervision too! Check out this article from Vegetarian Living Magazine to get a flavour of what our Mushroom Discovery Days are all about.
This is what Liz Earle had to say:
"Fred the Forager will take you to discover
the wealth of Britain's edible fungi…
A great introduction to gathering your
own mushrooms and learning the important facts"
Liz Earle MBE
Wellbeing Magazine
A Mushroom Discovery Day is a great introduction to the culinary hobby of gathering your own edible mushrooms from the wild and it will also open a window on the astonishing natural world of fungi… making the perfect gift for the forager, photographer or the naturalist in your life.
Mushroom Discovery Days include wild mushroom canapes in the afternoon cooked in the forest, washed down with a glass or two of foraged liqueurs! Only plentiful species are collected for food and great emphasis is placed on understanding the importance of fungi to the ecosystem. Very occasionally we meet people who are not interested in fungus conservation and just want to collect as many mushrooms as they can. If you are one of those people, we politely ask you not to apply to come on this course.
These days are VERY popular and early booking is recommended.
Bookings can be made by sending an email to Fred@thewildsideoflife.co.uk (please put MUSHROOM DISCOVERY DAY in the subject line). Your place will be secure once we have received full payment by cheque or PayPal. If you have received a gift certificate for this course then your course has already been paid for and you must get in touch to reserve your chosen date.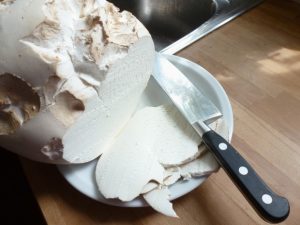 If you wish to go on to develop your confidence and identification skills much further, we can also offer you the extremely popular Secret Sunday Mushroom Club which is ideal for the dedicated forager or budding mycologist! Your 12 months membership will introduce you to the field mycology skills that you need to identify a wide variety of fungi and people often return year after year.
It offers unique study materials, 4 field trips in the peak of the season and membership of a special expert ID forum for 12 months. You will also learn how to record your finds with the national Biological Records Centre, which will contribute to understanding how the pressures of climate change, changing patterns of land use, air and water pollution are impacting our fungi populations.